Alexis A. Orlando
Attorney at Law, Long Beach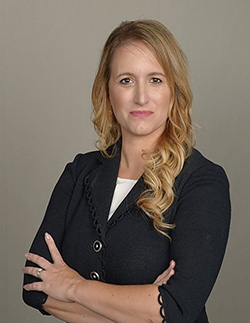 Certified by the State Bar of California Board of Legal Specialization Workers' Compensation Law
EDUCATION
Alexis A. Orlando obtained her bachelor's degree in philosophy from Westmont College in 1998, with recognition as a merit scholarship recipient. She received her Juris Doctor from Whittier Law School in 2002, graduating cum laude. Ms. Orlando earned American Jurisprudence Awards in Contracts and Constitutional Law and was a member of Whittier Law Review, where her work on constitutional law was published in 2002.
BACKGROUND
Ms. Orlando is a member of the State Bar of California, the Supreme Court of the State of California, the United States Court of Appeals for the Ninth Circuit, and the United States District Court, Central District of California. Ms. Orlando is a Certified Specialist in Workers' Compensation from the California Bar.
Alexis has extensive experience aggressively representing employers and insurance carriers throughout Southern California in workers' compensation matters, including §132a and serious and willful claims. She has litigated hundreds of cases, including numerous "take nothing" trial results. Additionally, Alexis has handled matters at the appellate level, including petitions for reconsideration and petitions for writ of review.
Alexis joined Dietz, Gilmor & Chazen in 2016, bringing her extensive experience to DGC's Long Beach office. Outside of her career, Alexis enjoys yoga and traveling.
Send Secure Referral/Message to Alexis