Amanda Francisco
Attorney at Law, San Diego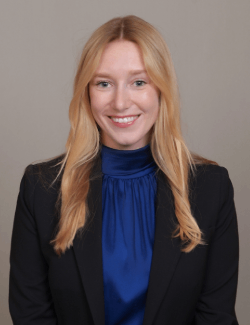 EDUCATION
Ms. Francisco received her Bachelor of Arts degree in Political Science in 2019 from California Polytechnic State University in San Luis Obispo, California with a concentration in Pre-Law and a Minor in Dance. She was a Dean's List scholar throughout college over multiple years. Ms. Francisco received her Juris Doctor in 2022 from Southwestern Law School in Los Angeles, California and was recognized with the Southwestern Public Interest Law Service Award for her over 400 hours of public service work at the Los Angeles City Attorney's Office and Los Angeles District Attorney's Office. She is a Public Interest Law grant recipient and was recognized with the Wildman/Schumacher Scholarship. She also served as a member of the Public Interest Law Committee, Women's Law Association, and as a law clerk for the Community Lawyering Clinic, providing legal assistance to college students in immigration cases related to Deferred Action for Childhood Arrivals (DACA). She also conducted webinars educating students about Title IX resources on campus.
BACKGROUND
Ms. Francisco served as a certified law clerk in both the Los Angeles District Attorney's Office's Preliminary Hearing Unit and Victim Impact Program, conducting numerous hearings and assisting in high profile cases. Before joining DGC, she was a Graduate Law Clerk with the San Diego City Attorney's Office in the Special Prosecutions Unit. A member of the State Bar of California since 2023, Ms. Francisco joined the San Diego office of Dietz, Gilmor & Chazen this same year to dedicate herself exclusively to defending California employers in workers' compensation claims. To achieve settlement and file closure goals for her clients, she provides quality legal representation and excellent customer service to all file stakeholders related to workers' compensation defense, including large insurance carriers, third-party administrators, self-insured employers, and med-legal and ancillary care vendors involved in her cases. While representing a variety of employer related industries, Ms. Francisco has quickly developed an expertise defending school district claims for joint power authorities (JPA's) and other public entities.
Outside of legal practice, Amanda enjoys practicing hot yoga, running, and hiking. This past year, she volunteered with the City of San Diego's homeless outreach program continuously working to provide appropriate shelter placements for San Diegans in need. Before entering the legal profession, Amanda worked as a dance teacher, choreographing and teaching dance to children of all ages in the areas of acrobatics, musical theatre, hip hop, jazz, ballet, and tap dance. She has continued her passion for dance by performing in showcases and taking dance classes.
Send Secure Message/Referral to Amanda (please complete all fields)
AMANDA'S NEWS
The firm is pleased to announce the association of Amanda Francisco as associate attorney in our San Diego office.