Arthur Adamian
Attorney at Law, Santa Monica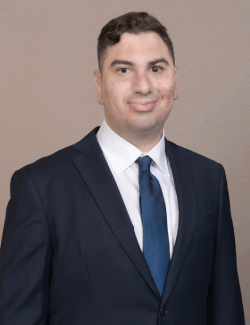 EDUCATION
Mr. Adamian received his Bachelor of Arts degree in International Relations from Pepperdine University in Malibu, California in 2014.  In college he served as a news writer for the Pepperdine Graphic community paper and did volunteer work for under-resourced communities fighting hunger in Los Angeles food deserts.
Arthur Adamian received his Juris Doctor from New York Law School in New York City in 2020 with noted emphasis in State and Local Government Law, Criminal Procedure, Evidence, and Trial Advocacy.  During law school, he served as an Appeals Extern in the New York City Office of Administrative Trials and Hearings Appeals Division, and as an Appeals Intern in the New York Police Department Licensing Division.  Further as an Intern for the New York State Court Disciplinary Department, he investigated alleged violations of attorney rules and professional conduct and drafted motions to terminate attorney licenses based on ethics violations.
BACKGROUND
Mr. Adamian is a member of the State Bar of California, State Bar of New Jersey, and the New York State Bar Association.  He joined the Santa Monica office of Dietz, Gilmor & Chazen in 2023 as an associate attorney representing large insurance carriers along with self-insured employers and their third-party administrators, dedicating his law career exclusively to workers' compensation defense.  Arthur Adamian has demonstrated strong settlement and file closure acumen for his food service, trucking and logistics, and manufacturing industry clientele.  He is devoted to providing quality legal representation and excellent customer service to his clients in all workers' compensation matters.
Arthur Adamian is active likewise outside of the law as a competitive athlete training for and participating in competitive swimming and running events.  He is a movie classics film buff of the Golden Age of Hollywood from 1927 (advent of sound motion pictures) through 1948 (beginning of demise of the studio system of that era).
Send Secure Message/Referral to Arthur (please complete all fields)
ARTHUR'S NEWS
The firm is pleased to announce the association of Arthur Adamian as associate attorney in our Orange County office.