Austin Mardian
Attorney at Law, Greater Los Angeles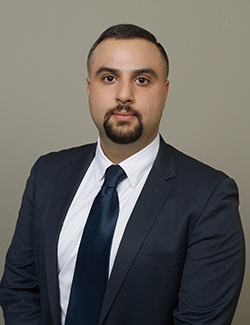 EDUCATION
Austin Mardian graduated Cum Laude with a degree in political science in 2011 from Loyola Marymount University, Los Angeles. As a member of the Dean's Honors List during law school, he obtained his Juris Doctor from Loyola Law School in 2015 and became a member of the State Bar of California the same year.
BACKGROUND
Mr. Mardian is a member of the State Bar of California and the United States District Court Central District of California. While in law school, Mr. Mardian represented young adults facing serious felonies in juvenile court as a certified law student.
Austin Mardian has practiced solely in the field of workers' compensation defense since 2016, including defense of Labor Code Section 132(a) and serious and willful claims. He joined the Encino/Greater Los Angeles office of Dietz, Gilmor & Chazen in 2018, representing insurance carriers, self-insured employers, and public entities in all aspects of workers' compensation. He strives to provide the highest level of service with an emphasis on understanding his clients' needs and business practices.
Austin is a talented musician and has played with well-recognized bands touring locally and abroad.
Send Secure Referral/Message to Austin