Brett Higby
Attorney at Law, Greater Los Angeles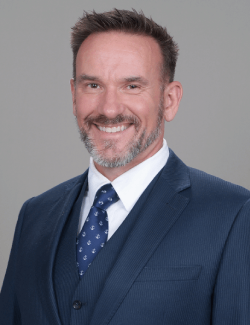 EDUCATION
Mr. Higby received his Bachelor of Science degree in Criminal Justice in 1999 from San Diego State University in San Diego, California and served as an Officer in SDSU's Delta Sigma Phi fraternity. He then joined the United States Navy and served in the Navy's Law Enforcement Academy and overseas in Keflavik, Iceland. During this time, Mr. Higby earned a Master's Degree in Business Administration (MBA) from Trident University International. He left the Navy to pursue his legal career and investigated fraud within financial and healthcare sectors during law school. Mr. Higby received his Juris Doctor degree in 2009 from Purdue University Global with an academic focus in healthcare administration law.
BACKGROUND
Having a decade's worth of career success as both a Certified Fraud Examiner through the Association of Certified Fraud Examiners (ACFE) and as a Licensed Private Investigator and Qualified Manager with the State of California, Mr. Higby was admitted in 2023 to the State Bar of California knowing that his background in fraud investigations and his belief in proper ethics would be well utilized defending California workers' compensation claims.  He offers clients extensive investigative experience and legal skills to combat workers' compensation fraud related to Medicare Part D prescription drug coverage, the casino and gaming industries, and the farm labor food production and staffing industries among many others.  Brett Higby joined the Greater Los Angeles office of Dietz, Gilmor & Chazen this same year exclusively dedicating his legal and investigative skills to defending large insurance and reinsurance carriers, third-party administrators, private and public self-insured employers, brokers and risk management experts.
Outside of legal practice, Brett runs competitive mountain trail run events with heavy weight-carrying obstacle courses and mud sections throughout California known as Spartan Races.  In 2022, Brett completed the elite Spartan Race Trifecta Challenge that includes completing Spartan's Sprint, Super, and Beast Challenges in a single year.
Send Secure Message/Referral to Brett (please complete all fields)
BRETT'S NEWS
The firm is pleased to announce the association of Brett Higby as associate attorney in our Greater Los Angeles office.