Brittany Poos
Attorney at Law, Greater Los Angeles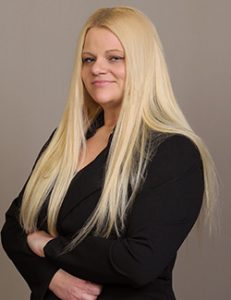 EDUCATION
Brittany M. Poos earned an Associate of Science Degree in Legal Studies from Mt. San Antonio College in 2008. She earned her Bachelor of Science degree from the University of Phoenix majoring in Business Management. In December 2014, Ms. Poos earned her Juris Doctor from the University of La Verne, College of Law. She was admitted to the California State Bar in 2015.
BACKGROUND
At a young age Brittany knew she wanted to be an attorney. She grew up in Hillsboro, Illinois, a small rural town. Her grandfather was a farmer and she developed an interest in the business of agriculture and land ownership.
Before being admitted to the California State Bar, Brittany was already working in the business of workers' compensation. She worked as lien claimant collecting through the courts for various ancillary providers and specializing in medical and pharmaceutical liens. Subsequently admitted to the California Bar, Brittany knew she wanted to litigate for the defense. She has exclusively practiced in workers' compensation defense since 2015.
Brittany joined the Encino/Greater Los Angeles office of Dietz, Gilmor & Chazen in 2022, bringing her unique skills and experienced defense knowledge in defending claims for self-insured employers, third-party administrators, and insurance carriers.
Brittany loves living in Southern California and enjoys the mountains, the beaches, and exploring the topography of our California landscape. She is a proud Mom to three beautiful girls and enjoys time with her children, two dogs, one cat, and two fish.
Send Secure Message/Referral to Brittany (please complete all fields)