Hasmik Simidyan
Attorney at Law, Greater Los Angeles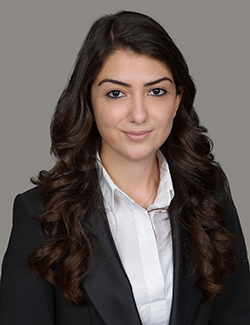 EDUCATION
Hasmik Simidyan received her Bachelor of Arts degree from Loyola Marymount University, where she majored in Political Science and graduated with cum laude honors. In 2018, she earned her Juris Doctorate from Loyola Law School, Los Angeles.
BACKGROUND
Ms. Simidyan is a member of the State Bar of California and the Armenian Bar Association.
While in law school, Ms. Simidyan served as an intern for the Los Angeles City Attorney's Office Central Trials Unit and as a legal extern to the Honorable Sandra R. Klein of the United States Bankruptcy Court.
As a member of the Loyola Law School Bankruptcy Clinic, Ms. Simidyan also advocated on behalf of individuals filing for bankruptcy who could not afford representation.
Prior to joining Dietz, Gilmor & Chazen in 2019, Ms. Simidyan worked at a workers' compensation firm specializing in catastrophic injury and traumatic brain injury claims.
Ms. Simidyan is a dedicated fan of the Los Angeles Kings, enjoys spending time with her family, and aspires to one day become a member of the Yelp Elite Squad.
Send Secure Referral/Message to Hasmik