Miriam Gregory
Attorney at Law, Greater Los Angeles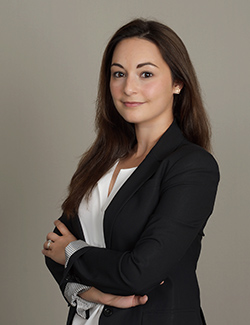 EDUCATION
Miriam Gregory graduated from the University of California San Diego with a degree in Political Science and International Relations. In 2011, Ms. Gregory received her Juris Doctor from Pepperdine University School of Law and became a member of the State Bar of California in 2011.
BACKGROUND
Miriam Gregory is a member of the State Bar of California and the United States District Court, Central District of California. While in law school, Ms. Gregory clerked for Judge Harry Pregerson of the Ninth Circuit Court of Appeals. She also represented asylum-seekers in immigration proceedings as a clerk with Pepperdine's Refugee and Asylum Clinic.
Since 2014, Ms. Gregory has defended insurance carriers and third-party administrators in all aspects of workers' compensation. She is a detail-oriented advocate for her clients, focusing on providing comprehensive legal counsel and an aggressive defense. She aims to provide the highest level of service with an emphasis on understanding her clients' needs.
Ms. Gregory joined the Encino/Greater Los Angeles office of Dietz, Gilmor & Chazen in April 2018. Prior to joining Dietz, Gilmor & Chazen, Ms. Gregory worked as an in-house workers' compensation defense attorney for Liberty Mutual Insurance Group. She also has experience in subrogation litigation and coverage litigation.
In her spare time, Miriam enjoys watching stand-up comedy, attempting new recipes, and planning new travel adventures.
Send Secure Referral/Message to Miriam