Natalie Anne Lluis
Attorney at Law, Orange County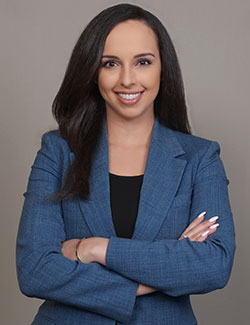 EDUCATION
Natalie Anne Lluis received her Bachelor of Science degree in Sociology with a minor in Business Law in 2017 from the University of Southern California, Los Angeles. She earned her Juris Doctor from Southwestern University in May 2020. Ms. Lluis became a member of the State Bar of California in January 2021.
BACKGROUND
Natalie's past experience in personal injury and immigration law enhances her ability to connect with and advocate for clients. While at Southwestern University, she was co-vice president of the Latino Law Group and was involved with the Immigration Clinic.
Ms. Lluis joined Dietz, Gilmor & Chazen in 2021.  She represents employers, insurance carriers, third-party administrators, and self-insured employers in all aspects of workers' compensation defense, including Labor Code Section §132a, serious and willful misconduct, subrogation claims, and consultation services.
Natalie enjoys boxing, hiking with her 4-year-old German Shepard "Shadow," and traveling.
Send Secure Message/Referral to Natalie (please complete all fields)