William D. Gaus
Attorney at Law, San Francisco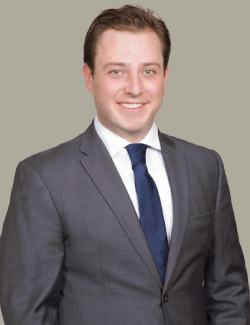 EDUCATION
Mr. Gaus received his Bachelor of Arts degree in History from St. Olaf College in Northfield, Minnesota in 2014, where he also served as Manager of the Men's Division III Basketball Team.  Mr. Gaus received his Juris Doctor in 2022 from the University of San Francisco School of Law in San Francisco, California having been awarded an academic scholarship to attend.  During law school he began clerking for a San Francisco based California-wide insurance defense firm specializing in commercial general liability, employment practices liability, and transportation and common carrier liability among other risks germane to defending insurance carriers in California.
BACKGROUND
Mr. Gaus continued working defending insurance carrier liabilities while preparing for the State bar exam and developed further expertise in defending insurance carriers in claims involving personal injury, subrogation, and the Song-Beverly Act related to challenges to express and implied products and services warranties in the State of California.
Mr. Gaus was admitted to the State Bar of California in 2023, and joined the San Francisco office of Dietz, Gilmor & Chazen in this same year to dedicate himself exclusively to workers' compensation defense for California employers, insurance carriers, third party administrators, and risk management experts and brokers.  He is dedicated to providing quality legal representation and customer service in all workers' compensation matters, and to providing all client stakeholders his broad based insurance defense know-how for using investigation and truth based fact finding to resolve his cases swiftly.
William is very active outside of the law.  He enjoys following all professional and college athletics, most especially of course College Basketball and March Madness given his years of involvement working in collegiate level basketball.  And, having completed an 8-week internship during college at the McCall Rare Books & Manuscripts Library in Mobile, Alabama, he today continues to be an enthusiast of very rare books and historical manuscripts.
Send Secure Message/Referral to William (please complete all fields)
WILLIAM'S NEWS
The firm is pleased to announce the association of William D. Gaus as associate attorney in our San Francisco office.