Christopher J. Vincent
Attorney at Law, Orange County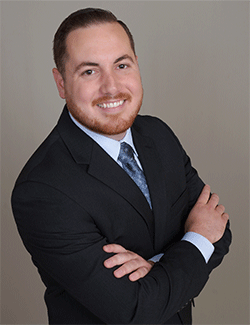 EDUCATION
Christopher Vincent, a workers' compensation attorney in Orange County, received his Bachelor of Arts in English Literature in 2013 from San Diego State University.
He earned his Juris Doctor in 2016 from California Western School of Law, where he was recognized by the Pro Bono Honors Society for his volunteer work with the San Diego County Office of the Public Defender.
BACKGROUND
Christopher Vincent is a member of the State Bar of California and the Orange County Bar Association.
Mr. Vincent joined the Orange County office of Dietz, Gilmor & Chazen, a distinguished workers' comp law firm in Orange County, in 2019 as an associate attorney, representing insurance carriers, self-insured employers, and public entities in all aspects of Subrogation, Claims Settlement, AOE/COE, OACR, Labor Code Section 132a, Asbestos Litigation and California Workers' Compensation Defense.
In his free time, Mr. Vincent enjoys hiking and spending time with his family.
Send Secure Message/Referral to Christopher (please complete all fields)