Josue Villanueva
Attorney at Law, Greater Los Angeles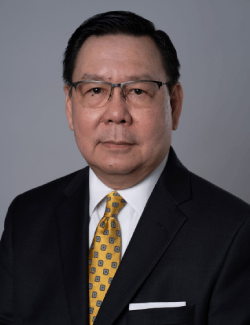 EDUCATION
Mr. Villanueva earned his Bachelor of Science degree in Preparatory Medicine from Pontifical University of Santo Tomas in Manila, Philippines. He likewise received his Juris Doctor equivalent in the Philippines (Legume Baccalaureus) at San Beda University in Manila. Mr. Villanueva maintains affiliation with the Philippines Supreme Court and the Office of the Solicitor General, Government Legal Counsel for the Executive Branch in Trial and Appellate Advocacy in Manila, Philippines.
BACKGROUND
Mr. Villanueva began practicing law in The United States and in California as a member of the State Bar of California in 1994.  He has an accomplished history as a solo practitioner based out of Glendale, California where for decades he defended immigrants from unjust removal before the Executive Office for Immigration Review of the U.S. Department of Justice.  Mr. Villanueva also developed significant expertise handling consumer bankruptcy cases during these years.  He maintains affiliations with all U.S. District Courts of California, the Executive Office for Immigration Review at the U.S. Department of Justice, USCIS at the U.S. Department of Homeland Security, the American Immigration Lawyers Association, and all Bankruptcy Courts in California.
Through his solo practitioner work, Mr. Villanueva began representing clients as a workers' compensation applicant attorney to ensure justice for legitimately injured workers struggling with receiving care and benefits.  In time, he developed a much stronger affinity for workers' compensation defense and practicing workers' compensation law in compliance with his preferred ethical standards.
Mr. Villanueva is now exclusively dedicated to defending large insurance carriers and third-party administrators along with private self-insured and self-administered employers, insurance and reinsurance carriers, and brokers and risk management expert groups.  He is devoted to providing the highest quality legal representation available and excellent customer service to his clients in a variety of industries including big box retail stores and distribution hubs, landscaping, construction and engineering, and a host of airlines and aeronautical related businesses.
Mr. Villanueva joined the Greater Los Angeles office of Dietz, Gilmor & Chazen in 2023 bringing his unique skill set for resolving cases early and often for the defense with his know-how in medicine and aggressive truth-based fact finding.  His passion and strategic approach for workers' compensation defense has brought DGC clients strong litigation costs savings.
Send Secure Message/Referral to Josue (please complete all fields)
JOSUE'S NEWS
The firm is pleased to announce the association of Josue Villanueva as associate attorney in our Los Angeles office.