Mohammad Jahangard
Attorney at Law, Greater Los Angeles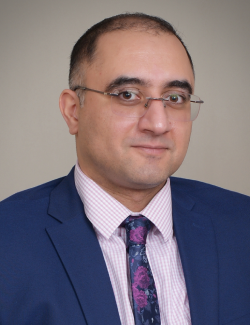 EDUCATION
Mr. Jahangard received his Bachelor of Arts degree in Political Science in 2008 from California State University, Northridge in Northridge, California. At graduation he was recipient of both the University Scholastic Award and the Political Science Department Award for Excellence. He received his Juris Doctor from Chapman University School of Law in Orange, California in 2013 as recipient of multiple CALI Excellence for the Future Awards for academic excellence. Mr. Jahangard also served as a Judicial Extern during law school for Judge Roy Paul at the Los Angeles Superior Court.
BACKGROUND
Mr. Jahangard was admitted to the State Bar of California in 2014 and is also a member of the U.S. Federal Court, Central Court of California. He joined Dietz, Gilmor & Chazen's Greater Los Angeles office in 2023, bringing to DGC over a decade's worth of experience and expertise in California workers' compensation defense litigation. Mo, as he is known to his clients, is widely considered an expert in resolving complex med-legal claims quickly and at strong value for the defense. His demonstrates tactical excellence when deposing AME and PQME physicians. Years of experience, specialized coursework, and sharp knowledge of the intricate med-legal detail involved in the use and application of the AMA Guides 5th Edition and the DSM-IV-TR has provided him the know-how to think outside-the-box when litigating high exposure cases, and he has experience providing legal training in UR and IMR to claims examiner teams.
Mr. Jahangard is likewise experienced in resolving Labor Code Section §132a and Serious and Willful claims, consistently exceeding legal representation expectations for all type of industry clientele inclusive of public and private self-insured and self-administered employers, insurance and reinsurance carriers, and brokers and risk management expert groups.
Outside of legal practice, Mo enjoys being a connoisseur of classical music. He can identify all works of his favorite composers, which include Germanic and Austro-Germanic composers of the Romantic period such as Johannes Brahms and Gustav Mahler. Having spent part of his childhood growing up in Wesseling, Germany, Mo is fluent in written and spoken German, and also speaks conversational Farsi. In addition, Mo is an avid consumer of sports which include baseball, football, and hockey. He also enjoys traveling with his wife and making new memories whenever possible.
Send Secure Message/Referral to Mohammad Jahangard (please complete all fields)
MOHAMMAD'S NEWS
The firm is pleased to announce the association of Mohammad Jahangard as associate attorney in our Los Angeles office.