Keita T. Middleton
Attorney at Law, Orange County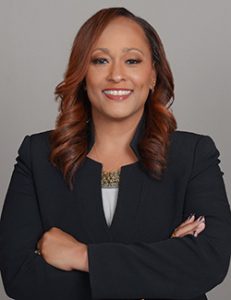 EDUCATION
Keita Middleton earned a Bachelor of Arts degree in English Literature with a minor in Political Science in 1999 from California State University, Long Beach. She received her Juris Doctor from Western State College of Law at Fullerton in 2006 along with having an accomplished career for years as a fifth grade teacher during this time.
BACKGROUND
Keita was admitted to the State Bar of California in 2012 and early in her career worked in family, immigration, civil, and workers' compensation applicant litigation. She quickly gravitated to workers' compensation defense litigation in 2014 using her diverse experience as a civil law litigator and teacher to fuel success in defending claims. She is highly skilled at case resolutions in post-termination and denied cases and in dealing with Labor Code Section §132a claims and serious and willful actions.
Keita is a world traveler enthusiast having been to six continents and over thirty-five countries. She enjoys her spare time with her husband, a former professional baseball player from Cuba, and their adorable miniature Doberman Pinscher, Rita.
Send Secure Message/Referral to Keita (please complete all fields)